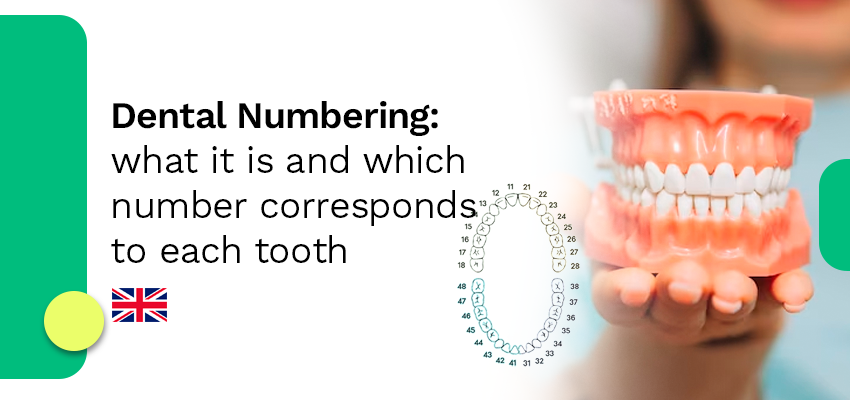 Dental numbering is important to simplify and standardize the way of referring to a given tooth, so that professionals can communicate concisely and effectively.
To understand everything about how teeth are classified and numbered, keep reading this content!
How many teeth do we have?
To answer this question, it is necessary to take into account which stage of life we are referring to, as the number of teeth in a child is different from the number of teeth in an adult. 
The complete child's dentition is established around three years old, with a total of twenty teeth (ten on top and ten on the bottom). Among these twenty teeth are: eight incisors, four canines and eight molars.
Already in adulthood, the complete dentition has a total of thirty-two teeth; however, four of them are usually extracted due to their location and prevention of problems (the famous wisdom teeth, formally called third molars).
Thereby, most adults have twenty-eight teeth in their mouths, when they have not lost teeth throughout their lives due to diseases, namely: eight incisors, four canines, eight premolars and eight molars.
Some anomalies may change the natural quantity of teeth an individual has. Tooth agenesis, for example, characterizes the congenital absence of one or more teeth, while supernumerary teeth are those in addition to the normal series.
People with genetic syndromes are more likely to have these types of dental anomalies; however, it is not that uncommon for this to occur in healthy individuals without genetic changes.
Finally, perhaps one last interesting fact is that the number of teeth an adult has has changed over time. Human evolution and changing habits have caused fewer teeth to form over time. One hypothesis justifying this change is that previously Man needed more teeth to chew food with greater hardness and that, as he/she started to have other eating habits and did not demand more from the fourth molar, it stopped forming.
This has also been observed with the third molar (wisdom tooth) and currently it no longer forms in many people. Behold the power of epigenetics!
Teeth classification
Now that you've understood about variation in relation to the number of teeth in different stages of life, learn how they are classified.
Anterior
The anterior teeth are so called because they are the ones that come first, both in relation to their eruption and to their position, they are at the front of the mouth.
Incisors: Incisors can be classified as central or lateral, lower and upper. The lower central incisors are the first to erupt in the oral cavity of the baby, during the deciduous dentition, and of the adult, when the exchange of milk teeth for permanent teeth begins.

Canines: Canines are the teeth that come after the lateral incisors and have a more pointed shape, helping to tear food during chewing. They are popularly known as "fang" or "vampire tooth".
Posterior Teeth
In children, the posterior teeth are called deciduous molars and correspond to eight of the twenty teeth that make up their complete dentition, four in each arch. However, adults have a greater number of posterior teeth in both arches, corresponding to twice the number in childhood.
Premolars: premolars are the teeth located next to the canines and before the molars and help with chewing food. This is a type of tooth that is only in the permanent dentition, with four of them in each arch, two on each side.

Molars: molars are the flattest teeth we have and also contribute to grinding harder foods. As already reported, most people have first, second and third molar formation on each side of the upper and lower arch. However, most extract third molars as they are a tooth that usually generates more problems than benefits due to their location, position and difficulty in cleaning.
Dental numbering systems
To facilitate communication between professionals, some dental numbering systems have been developed around the world. Despite the central idea being a standardization in relation to how to refer to teeth, there may be differences from one system to another. 
FDI Numbering
The FDI numbering system separates teeth into quadrants:
Quadrant 1: Upper Right

Quadrant 2: Upper Left

Quadrant 3: Lower Left

Quadrant 4: Lower Right
Thus, the quadrant is mentioned first and then the number of the tooth (from 1 to 8, starting from the middle to the bottom of the mouth). For example: when referring to tooth 27, it is possible to understand that the professional is referring to the upper left second molar.
In this system, the deciduous dentition receives a quadrant numbering different from the permanent one:
Quadrant 5: Upper Right

Quadrant 6: Upper Left

Quadrant 7: Lower Left

Quadrant 8: Lower Right
Again, the first number represents the quadrant and the second number the tooth. Tooth 51 therefore represents the upper right central incisor, tooth 61 represents the upper left central incisor, and so on. 
Universal Dental System
It lists all the dental elements consecutively, from 1 to 32, starting with the upper right quadrant. In this case, number 1 corresponds to the upper right third molar, 16 to the upper left, 17 to the lower left, and 32 to the lower right.
Palmer's Quadrants
No number is used to indicate which quadrant each tooth belongs to. In this system, each tooth receives a number from 1 to 8 from the center of the mouth and it is necessary to clarify which tooth it belongs to. In this system, baby teeth are classified in Roman numerals, from I to V, or letters from "a" to "e".
Check out more Aditek content prepared especially for dentists!
Dental numbering greatly facilitates communication between professionals working in Dentistry, whether this communication is performed between dentists or between dentists and technicians. In addition, it is a very useful annotation tool when filling out odontograms and caries or periodontal disease indices.
Read more contents from Aditek's blog, created by specialists in the field, and learn about the brand's high-tech orthodontic products!